Material: Lycra Spandex, Shiny Spandex(wet look spandex/ shiny metallic)
Air Permeability: Very good
Elasticity: Very good
Gender: Women
Components: Catsuit
Characters: Invisible Woman, Invisible Girl, Susan Storm Richards, Fantastic Four, Malice, Baroness von Doom, Captain Universe, Marvel Comics Superheroine
Custom Option If You Need: Hands Detachable, Feet Detachable, Crotch Zipper for Male, Crotch Zipper for Female
The classic Invisible Woman cosplay costume of fantastic Four, the main material is lycra spandex which is very soft and comfortable, if you have not got any Halloween Costume Ideas, then this Easy Halloween Costumes will be a good choice, with good quality and affordable price, the black knee high boots in the picture is not included, this catsuit covers the feet, with front zipper and high neck, customize requirements also acceptable, usually the processing time is about 7 working days, but before the Halloween the processing time will be a little bit longer than usual, if you have not find the sexy Halloween costumes for yourself you can also mail us the picture of the character you like, we can produce for you. Any questions please feel free to contact us.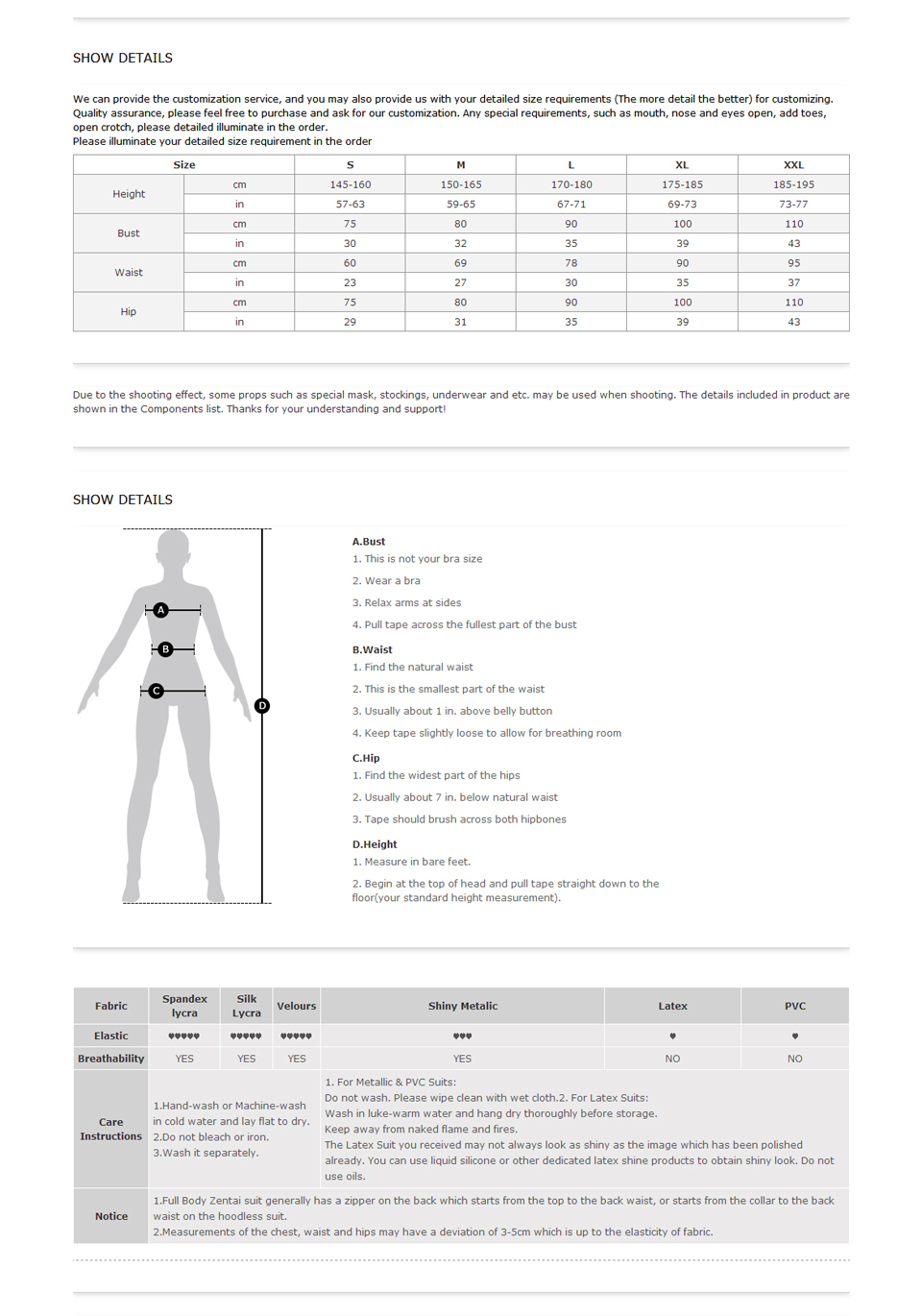 Invisible Woman first appeared in Marvel comic book "Fantastic Four," and in the beginning she only had the invisible ability. So in the group of the Fantastic Four, she can only help very little, Compared the ability with the other superheroes. Later, the author of this comic expanded the ability of Invisible Woman, he give her invisible ability to hide the things and people, create a powerful force field and send ultrasound waves. Although her ability has improved a lot, she is still Mister Fantastic (Reed Richards) 's assistant and play the second fiddle. But this situation began to change after John Byene took over this comic series. Under his creation, Invisible Woman becomes more confident and decisive in using her abilities. And then a versatile and memorable character of Fantastic Four. For example, she finds herself can use the force field she created to manipulate objects through the air, blocking enemies from attacking and preventing them from moving, or performing long-range attacks. Susan uses Invisible Woman as her pseudonym, and she has become one of the most powerful characters in Marvel Comics.