Material: Shiny Spandex(wet look spandex/ shiny metallic)
Air Permeability: good
Elasticity: good
Gender: Women, kid, unisex
Components: Catsuit
Characters: Invisible Woman, Invisible Girl, Susan Storm Richards, Fantastic Four, Malice, Baroness von Doom, Captain Universe, Marvel Comics Superheroine
Custom Option If You Need: Hands Detachable, Feet Detachable, Crotch Zipper for Male, Crotch Zipper for Female
This Invisible Woman cosplay costume made of shinny metallic material, inspired by the character Susan Storm Richards/ Invisible Woman played by Jessica Alba, the black boots are not included, the cat suit covered the feet. High collar style, the zipper is from the top to the belly part, this sexy catsuit can zip up, you can also wear like the model shows, we can also do the changes for this costume if you need. Processing time is about 7 working days, the shipping is about 2-6 working day, looking for Sexy Halloween Costumes For Women, what about try this sexy cat suit. It will be one of a good Halloween Costume Ideas.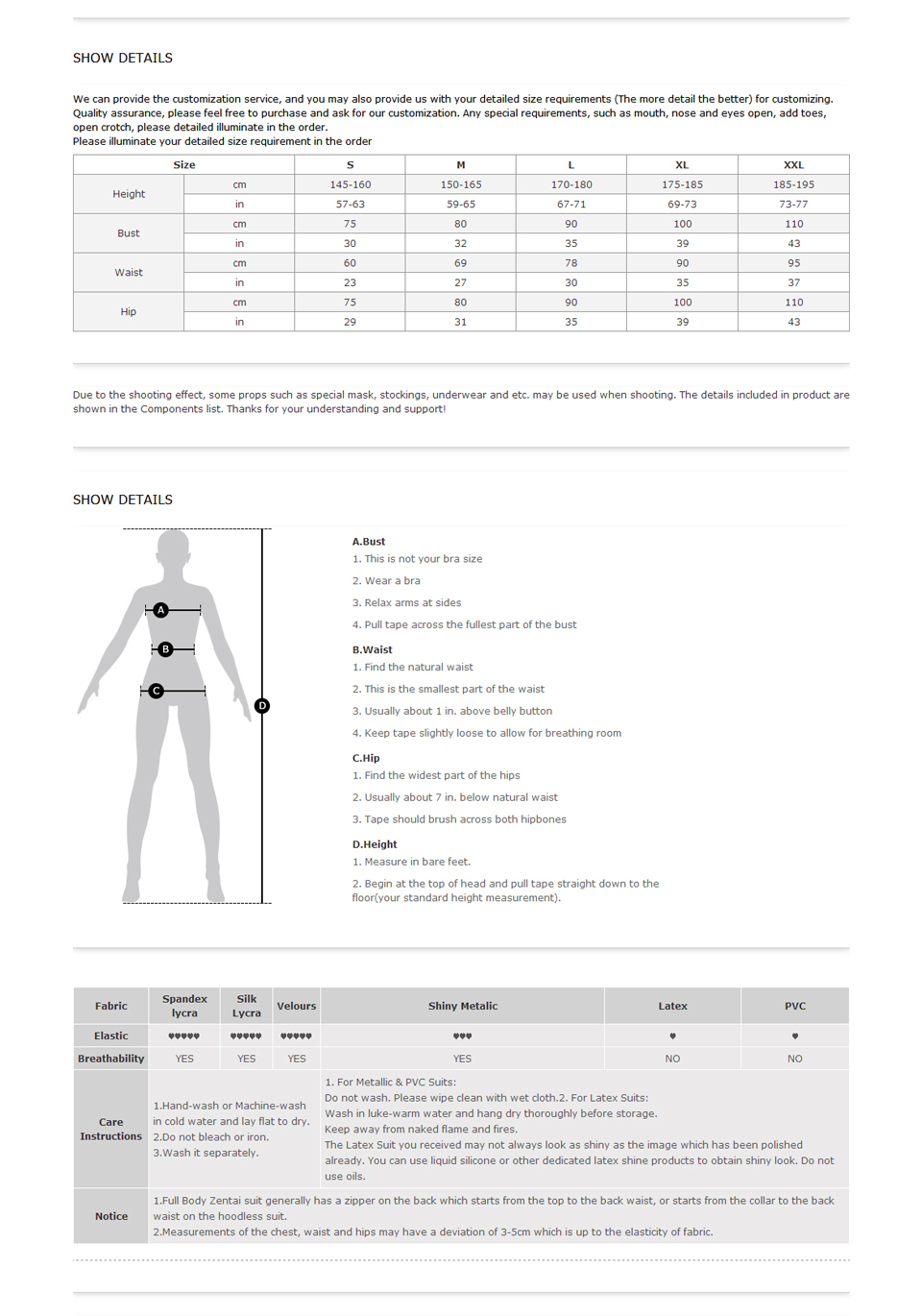 Fantastic Four is Marvel's first superhero team and consists of four superheroes, they both with super powers. Created by the screenwriter editor/co-plotter Stan Lee and artist/co-plotter Jack Kirby, they first appeared in the first issue of the "Fantastic Four" comic book published in November 1961. The comic book has been selling for more than 50 years and called " The best comic magazine in the world."Four astronauts - genius scientist Dr. Reed Richards Mister Fantastic ( Universal Builder, Stretch, Big Brain, Reed Benjamin, Reed Benjamin, The Invincible Man, Doctor Doom, Doctor Doom), his fiancée Susan Storm Richards ( Jessica Alba / Kate Mara ), Susan's brother Johnny Storm ( Jonathan Lowell Spencer Storm, Jonathan Storm, Human Torch, Matchstick, Doug Brown, Invisible Boy, Ryan Landau, Firebug, Hothead,Blaze, Cyrus Cartwright, Junior, Torchie, Torch, Doctor Doom), and pilot Benjamin Jacob Grimm ( Thing, Ben Grimm ), take the spaceship into space to carry out a mission, they encountered a strong ray storm in the voyage, and finally returned to Earth. The influence of the radial began to appear: Susan Storm Richards disappeared mysteriously and suddenly appeared again. Benjamin Jacob Grimm became an orange stone Thing. Reed Richards's body became extension-type like an eraser, and Jonathan Lowell Spencer Storm becomes a raging flame, and can soar up into the sky with one start.