Material: Lycra Spandex, Shiny Spandex (wet look spandex/ shiny metallic)
Air Permeability: Very good
Elasticity: Very good
Gender: Women, kid, unisex, Men
Components: Catsuit
Characters: Invisible Woman, Invisible Girl, Susan Storm Richards, Fantastic Four, Malice, Baroness von Doom, Captain Universe, Marvel Comics Superheroine
Custom Option If You Need: Feet Detachable, Crotch Zipper for Male, Crotch Zipper for Female
Classic Invisible Woman catsuit cosplay costume, made of soft material Lycra spandex, and wet look shiny metallic, you can cannot find the best size from our size chart, custom-size also available, we can produce the Sexy Halloween Costumes For Women depends on your measurements. Back zipper, this is also the same as the Mister Fantastic cosplay costume, this bodysuit is unisex, and also can be the Kids Halloween Costumes. You can tell us your children's height, bust and hips, we will produce this unitard according to the kids' measurements, and also plus size also available. We will not charge for that. Usually the processing time of this cat suit is about 7 working days, the shipping depends on the destinations. Any questions please feel free to contact us. We will reply you as soon as possible.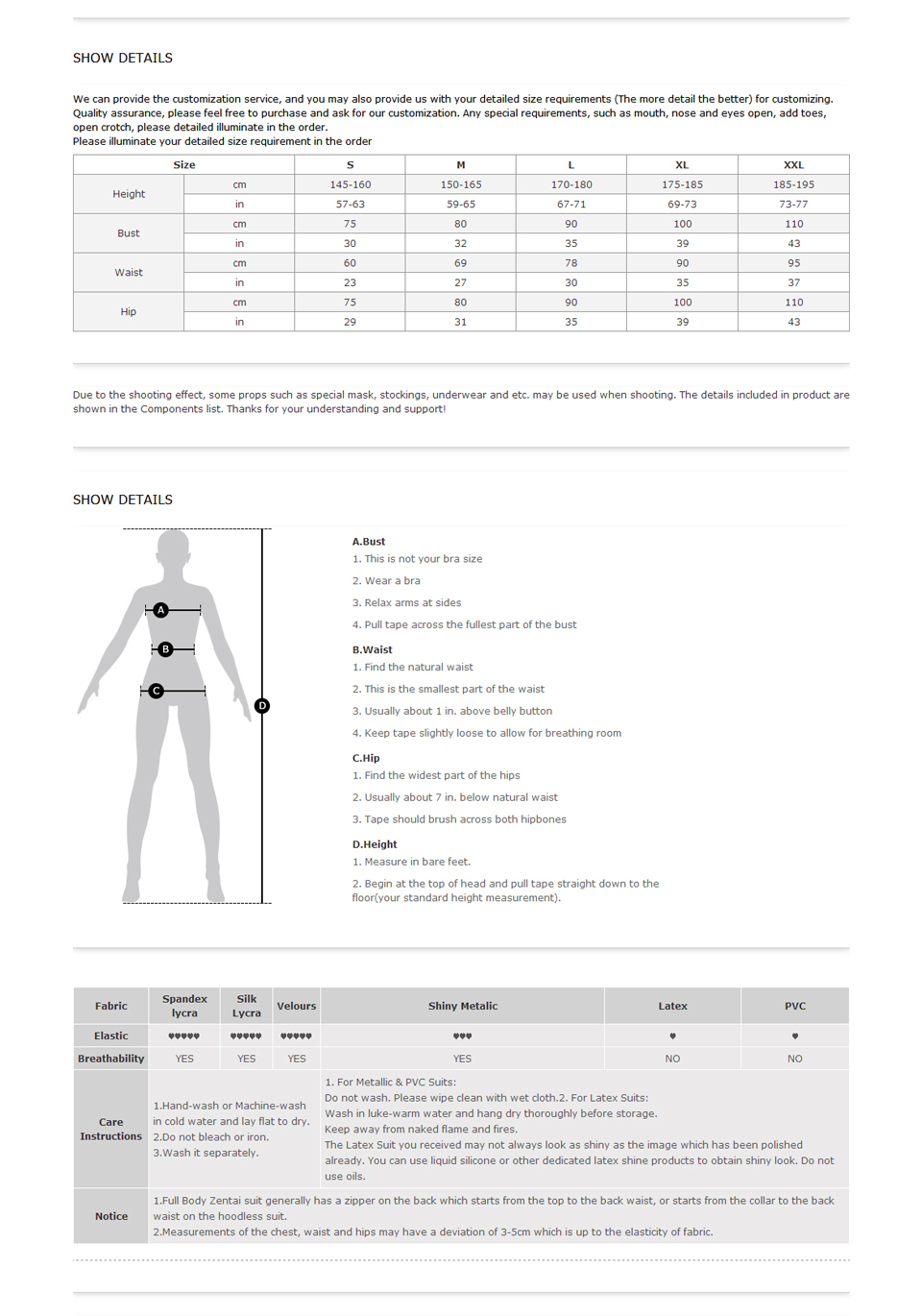 The Fantastic Four became MARVEL's "first family" soon. Compared with the other teams which the slogan is "fighting evil and saving the world", the Fantastic Four is really different from them. They are scientists and adventurers first, then are superheroes. Their adventures often began because of Reed Benjamin's new inventions, or it was science fiction kind exploration. However, this is a science fiction story, but it as real as the reality. The four people are living in Manhattan, New York, it is not a fictional city. They also encountered difficulties and problems, like neighbors complain about they are too noisy, the mayor wants to take back the houses they are living. Also the four characters are growing up, Reed Benjamin and Susan Storm Richards not only married but also had children! This "realistic" thought became the guiding principle that MARVEL followed in the future. Think about it, Reed Benjamin will take the team's funds to invest stocks and lose a lot of money, and lead to the creditors to move their experimental equipment to pay their debts - being a superhero would have encountered such a thing!